Almost 60 per cent of the world's thermal coal and more than 30 per cent of Australian thermal coal is unprofitable at current prices, creating a horror backdrop for the long list of miners and ports seeking to refinance debt this winter.
Prices for top quality NSW thermal coal have fallen 27 per cent since the coronavirus started affecting demand in February while prices for top quality Queensland coking coal have slumped 30 per cent over the same period and 46 per cent over the past year.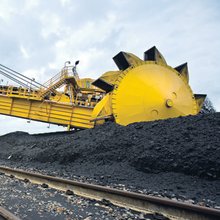 Similar price falls have hit the other ''intermediate'' coal products, with most coal types fetching the lowest prices since the severe downturn of 2015, raising the prospect of mine closures if prices remain weak.
Wood Mackenzie's Asia Pacific head of coal Rory Simington said 58 per cent of seaborne thermal coal – coal exported from one nation to another – had production costs higher than the prices witnessed on Thursday.
Mr Simington said NSW coal with energy content of 6000 kilocalories per kilogram was fetching $US51 per tonne on Thursday, while coal with 5500 kilocalories per kilogram was fetching $US40 per tonne.