Glencore, one of the world's biggest coal miners, has forecast its global output will fall by more than 25 per cent but its Australian mines will be among the last to close.
Bowing to pressure from investors to set a net-zero emissions goal by 2050, the Anglo-Swiss giant outlined a new goal to achieve a 40 per cent reduction of greenhouse emissions related to its mines by 2035, based on 2019 levels.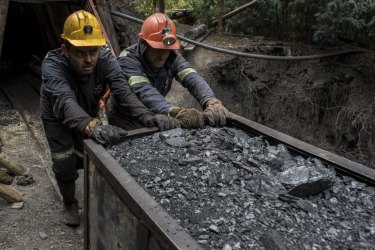 "Glencore will oversee a managed decline of its coal business," the company states in its "Pathway to net zero" report.
"As our assets in Colombia and South Africa come to the end of their economic lives, our Australian business is expected to continue to supply the high-quality coal required to meet ongoing global steel production and energy demand."
While the miner hinted at a big cut in future coal production in the coming years, the scale of the reduction has only become evident in its latest investor update.
While Glencore had flagged a steep drop in this year's output from 2019's levels of about 140 million tonnes to about 110 million tonnes, the miner now says such a production scale will now be the likely total for each year out to 2023 and beyond.
The slashed estimate amounts to 20-30 million tonnes a year "compared to our last longer-term guidance", the company said.
As with other major Australian coal miners, Glencore has been hit hard by collapsing demand and prices caused by this year's coronavirus crisis gutting global energy usage as well as Chinese government policies to stymie Australian coal cargoes.
Glencore was forced to suspend operations at most of its coal mines in the Hunter Valley for between two and three weeks last month in a bid to curtail output in face of the falling demand.
In the first six months of the year, revenue from Glencore's sales of Australian thermal coal — the fuel used to generate electricity — was 23 per cent down from a year earlier. Coal production will need to fall if global climate goals are to be achieved, Glencore said.