For South Coast Labour Council secretary Arthur Rorris, intensifying debate over what a low-carbon future may mean for Australia's industrial centres is a signal the rest of the country may finally have caught up with the Illawarra.
Standing beneath a towering smokestack at Port Kembla's BlueScope steelworks last week, Rorris says the region's unions concluded in 2009 that climate change was happening and that there was just one question they needed to answer.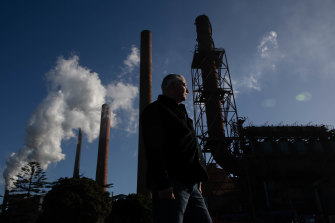 "That's whether we are going to share in the jobs created by the coming revolution, " he says. "Or will we stand on the sidelines and watch the rest of the world take them?"
Often left out of discussions about a so-called transition off fossil fuels, the area around Wollongong hosts the nation's largest steelworks, fed by coal mined in a hinterland that also includes several dams serving greater Sydney.
Boasting a deepwater port and heavy industry with two centuries of heritage, the Illawarra rivals the NSW Hunter and Victoria's Latrobe Valley as a region with the most at stake – and perhaps most to gain – if Australia can do its share of the decarbonisation needed to curb global heating. So far, there is no national effort to steer such a shift.
Read the full article published in the Sydney Morning Herald 28th September 2021