Infrastructure giant IFM Investors intends to raise $4 billion by the end of next year for a new clean-energy focused fund to capitalise on voracious demand from clients to invest in green assets.
Emissions reductions targets were intensifying pressure on investors to immediately decarbonise their portfolios, according to IFM's global head of infrastructure, Kyle Mangini, who said the energy transition was also creating significant new investment opportunities.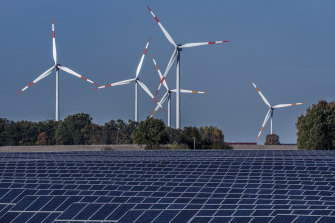 "Carbon reduction is not just an issue - it is the issue," he said. "There's an enormous amount of capital that wants to be part of the solution."
IFM is one of the world's largest infrastructure investors, with its $13 billion Australian fund and $56 billion global fund owning airports, toll roads, ports and energy assets on behalf of local superannuation funds and other clients.
It is owned by 22 Australian industry super funds and manages funds on their behalf as well as 591 other institutional investors from around the world.
The asset manager is now launching a dedicated Net Zero Infrastructure Fund to offer clients direct exposure to green projects, which Mr Mangini said he expected would raise about $4 billion within 12 to 18 months and make its first aquisition by mid-2022.  Renewable energy generation would be the fund's core focus, he said, but there were also opportunities in grid electrification, such as battery and storage projects, and even low-carbon fuel efficiency and carbon capture.
Read the full article published in the Brisbane Times 7th April 2022