One of the nation's largest power suppliers, EnergyAustralia, says subsidising battery installations would be the best way for the federal government to invest in the future of the power market while lifting the economy out of COVID-19.
As the Morrison government looks to gas to drive the post-lockdown recovery, EnergyAustralia's head of customer markets Mark Collette has called for a greater national focus on accelerating the transition to renewables by matching the recent boom in rooftop solar panels with household and commercial batteries, capable of storing surplus energy created during the day.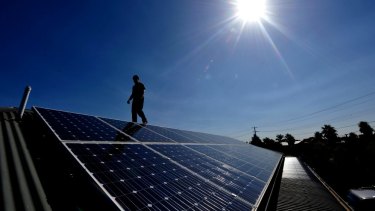 "I think the biggest problem to solve in energy ... is how we deal with the 'feast or famine' – that is, having too much renewables at one point in time and not enough at another," Mr Collette told The Age and The Sydney Morning Herald.
"That's the problem we should focus our time and attention on as a country."
Between six and nine gigawatts of new "dispatchable" power resources such as gas, batteries and pumped hydro will be required to manage the energy transition in the next 20 years to fill the gap during overcast and windless periods when conditions for renewables are unfavourable, according to the energy market operator.
However, Prime Minister Scott Morrison's heavy focus so far on gas as the solution has reignited public debate about the best path for Australia's transition, and has fuelled concerns from environmentalists and some business leaders who believe stimulus funding would be better spent on expanding clean energy rather than carbon-intensive fossil fuels.
Former prime minister Malcolm Turnbull this week said a "renewable-led economic stimulus" would be much more effective than concentrating on gas.
EnergyAustralia, which runs coal, gas and renewable energy assets supplying 2.4 million customer accounts, said incentive schemes in the past have helped drive a boom in solar panels' uptake as increasingly climate-conscious customers seek to reduce their carbon footprint. Mr Collette said 250,000 EnergyAustralia customers had signed up to the company's free carbon-neutral energy plans, offsetting 1.6 million tonnes of carbon dioxide and demonstrating that customers were eager to make a difference where possible. However, cost barriers have so far contributed a slower uptake of household batteries compared to solar, he said.