Fortescue Metals Group chairman Andrew Forrest says the time is right for Australia to develop its own big steel-making industry using the nation's vast iron ore resources and emerging green technologies.
Dr Forrest said Fortescue, which ships almost all its iron ore to customers in China, would start building Australia's first "green steel" pilot plant this year and a commercial-scale plant within the next few years.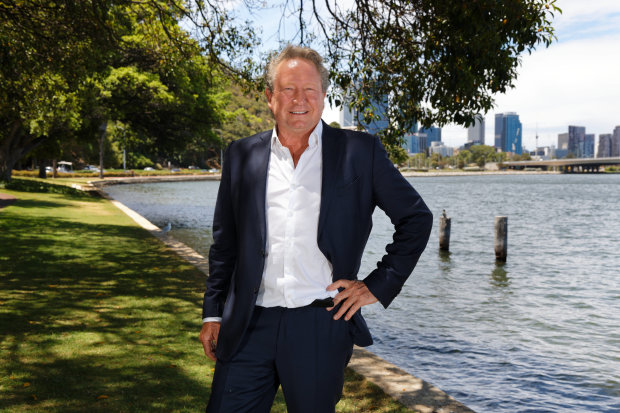 He said capturing even 10 per cent of the world's steel market could create more than 40,000 jobs in Australia, and that was more than enough to replace those set to be lost with the demise of the coal industry.
Dr Forrest revealed the Fortescue steel-making plans in the first instalment of the Boyer lecture series for the ABC due to go to air on Saturday.
Fortescue published his full speech on the ASX after Dr Forrest said the company had made a net profit after tax of $US940 million in the month of December, a result fuelled by high iron ore prices.
"It [Fortescue] has a market capitalisation of less than $US60 billion but it made a net profit after tax of over $US940 million just last month," he said in the speech.
Fortescue said on Friday that the December profit reference was based on preliminary unaudited management accounts.
The company, due to release half-year financial results on February 18, advised that its preliminary net profit after tax for the six months to December 31 on an unaudited basis was in the range of $US4 billion to $US4.1 billion.
Australia's richest man, who owns 36 per cent of the iron ore miner, said it was trialling two ways of making green steel.
Dr Forrest said Australia made barely any steel but had the potential to become a big steel producer rather than just an exporter of iron ore.
"We just dig up the iron ore, process it and export it," he said in the pre-recorded lecture.
" In some ways, that's a blessing. Blast furnaces, where most steel is made, generate 8 per cent of global (greenhouse gas) emissions because coal is used in the process.
" Now imagine if we could find a way to make green steel – zero-carbon steel – in Australia."
Read the full article published in the Australian Financial Review 22nd January 2021